In the modern world, who wouldn't prefer studying online? There are many forms of eLearning and virtual tutoring is becoming a salient part of it.
What is virtual tutoring?
Online tutoring is basically a form of learning where students get coached through digital platforms.
Earlier tutoring virtually meant merely setting up a meeting and starting to teach but we've come a long way from that.
We now have convenient tutoring platforms, where students can organize their subjects, receive supervision on study topics, on-demand homework assistance, and set up online tutoring sessions as they wish. They can track metrics of their overall performance.
Why virtual?
There can be endless parameters to answer this and we've brought a few for you –
Quality undoubtedly – 'Does online tutoring really help?'
Did we just catch you thinking this? Let's get into some facts – Case
studies have found an average of 80 percent of students – younger to
older, showing progress while getting tutored online.                                                                                                                                                                                                                                                      Surveys show students feel more engaged and connected in online classes as tutors
make use of various techniques to make lessons easy. Explanatory videos, educative games, connecting topics to everyday lives, interactive sessions – there are endless innovative methods to help students in their journey.                                                                                                                                                                                                                                         
Study with chill – In simple words, your children can study with convenience from your home. The chill that they'll own is having a comfortable couch, snacks to keep them filled, and no one will scold them for misplacing their belongings. (Quite easy)                                                                                                                              Unlike traditional in-person tutoring where students congregate at one place, try to gain the tutor's attention, and finish up exhausted, virtual is a more productive option.                                                                                                                                                                                                                                   
Feel special – Gone are the days when students had to wait for their turn to ask their query to the instructor as we now have 1-on-1 tutors for every child. It's as easy as you think – you can hire a tutor who will teach only your child at your preferred time. Feeling special yet?                                                                                                                                                                                                                                                                                                                           
Choose by your preference – Online tutoring fills in the gaps for each student's specific needs. Expertise is not a concern as you can locate a coach of any subject online.                                                                                                                                                                                                It's customary for in-person tutoring to offer most common subjects such as science, maths, languages, and although you can find tutors for them online, if you're looking for someone in complex fields such as coding, finance, quantum mechanics, neuroscience, and so on, you can definitely find a talented one on virtual tutoring platforms.                                                                                                                                                                                                                                                                                                                            
Friends galore – Although 1-on-1 classes are good for focusing on respective studies, your kids do require socializing, don't they?                                                                                                                                                                                                                                                                                Virtual tutoring camps organized once or biweekly allow students of the same streams to come together for this purpose. Students can know one another, have casual talks, play games, or do homework en masse.
During the devastating pandemic, students started to fall behind in their studies. Online tutoring platforms that help students in being on track with their subjects with experienced tutors have been the life-saver for their academics.
There are many such advantages of virtual tutoring for children looking to excel in their studies. Sometimes it can be a source of income for students who choose to tutor others. Needless to say, there's no shortage of online tutoring jobs and who would understand students better than student tutors?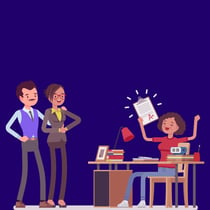 But, what's in for the parents?
If you're a parent attempting to teach your child on your own, it's definitely the right time to give yourself a break. If you're a working parent, you wouldn't have to stress about your kids' academic development. Leveraging technology the correct way gives your kid immense benefits and you receive satisfaction as a parent and as an employee.
FINAL WORDS –
Be it in a time of social distancing or back to normal, the pool of virtual tutoring is vast and specialty-oriented as compared to in-person. Depending on students' intake of classes, timely completion of homework, and being on track with concepts, it's a boon for them and parents alike.